Best Teas for Stress Relief
Relaxing Self-Care Teas for Anxiety & Stress Relief
⭐️ ⭐️ ⭐️ ⭐️ ⭐️
"This tea is great when you aren't feeling yourself. Perfect for cuddling up in a blanket & taking a 'time-out' from life." - Dawn
The best ingredients, hand-blended to our carefully curated recipes, for sip of self care - fresh flavor and dazzling aroma.
Top Sellers & Staff Favorites for Relaxing Teas
Dealing with stress and anxiety is about both supporting your emotional health AND your physical health.  That's why we love sipping any of our elderberry teas for immune support, or teas with lots of vitamin C like Just Rosehip or Tender Loving Care.
Featured in our tea club and now available to all customers. $7/oz
Coconut and ginger with a hint of sweet and spice.

Pour yourself a cuppa with no expectations. $7/oz.

Find yourself in a restful place. $7/oz
⭐⭐⭐⭐⭐ "I love Plum Deluxe tea. I have never been a herbal tea fan but now I love tea in the evening to relax." - Patsy S.
Can't decide what to try?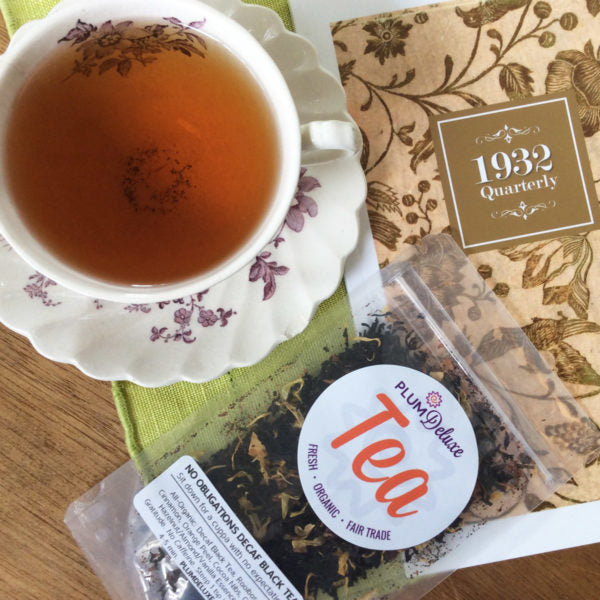 Love trying new teas? Join our tea of the month club for just $10/month and get a surprise tea in the mail every month, plus:
free shipping on all purchases
access to exclusive blends & products
surprise perks and discounts
one of the few subscriptions to offer caffeine-free
The #1 Loose Leaf Tea Club for Community & Calm
⭐⭐⭐⭐⭐ "When late-night work, parent teacher meetings or lesson plans have over-stimulated you in the evening, come down with these relaxing, decaffeinated teas..... I swear it's a grown-ups lullaby." - Pam T.B.